December 18, 2020

by

Juanita Byler
Jesus is coming!
It is almost Christmas. As of the day of this writing it is exactly 15 days. By the time you read this it will be about 5 days until we celebrate His birth. Now that I am a mother, I often think of Mary and Joseph and what they must have been thinking and feeling, during this time.
Prophecy had foretold His birth many years before, Isaiah 7:14, 53:10-11, Numbers 24:17, Micah 5:2, Genesis 49:10, Malachi 3:1, and Jeremiah 23:5, to name a few. Zacharias and Elizabeth waited with such anticipation of His birth. Their son, John, would be a forerunner of Jesus Christ. He would eat, dress, speak and live a radical life, "And (John) will go on before the Lord, in the spirit and power of Elijah, to turn the hearts of the parents to their children and the disobedient to the wisdom of the righteous—to make ready a people prepared for the Lord.", Luke 1:17. Did Mary and Joseph know what He was about to do, or all that would happen? Could they really anticipate all the signs and wonders and miracles? Would they have any insight into the love that He would show those ridiculed, rejected, and thrown out of society; the ones no one wanted. Could they have anticipated the teacher He would become? These moments of realization might be that 'warm your heart' parent moment!
However, there is another side that we witness. We also hear the harsh words He spoke not just to the Religious Leaders but also to His disciples. We read of the mess He made in the temple because of the disrespect for "His Father's house". There was also the ridicule, the hate, the division from the ones that knew the law of God the best. Should they have been the ones to know who He was? Let's not forget the incredibly cruel death that He bore willingly from the hands of those that denied His authority. Ugh! My mom heart cries for Mary and what she had to endure watching this child that she had delivered, fed at her breasts, changed diapers on, put shoes on, and watched grow into such a man of character and integrity only to be ridiculed and spit upon. But why? Why would God the Father be willing to sacrifice His Son in such a way?
This question takes us right back to the Garden of Eden. This perfect Garden, a place of perfect peace, of plenty and of unity with God." God never wanted human robots. He wanted persons that would choose of their free will to love Him. However, as a result of our free will, Adam's free will, the abundance of life was quickly replaced by death in 1 swift, quick move of believing a lie. Romans 5:18-19, "just as 1 trespass brought condemnation for all… and 1 man's disobedience many were made sinners…" and we watched from then on as men and women struggled to 'get it right' before a Holy God. Adam gave up his heart to another. Jeremiah 17:9 tells us what we inherited in return for the lie, "the heart is deceitful above all things, and desperately wicked; who can know it?" The Psalmist understood the sickness of his heart when he declared, "create in me a clean heart Oh God, and renew a right spirit within me".
The Holiness of God demands a righteous and justified heart to stand before Him.
We are living in an interesting time when God is revealing the heart; your heart, my heart, the heart of the Ecclesia, the "called out" Church of Jesus Christ. We are being "squeezed" intentionally to see what lies within each of us. A "refiner's fire" revealing where our allegiances lie. It has come in the form of a virus that has caused tremendous panic and fear around the globe and sadly within the Church. We have heard of times coming when we will be tested. We are there. It's revealing our idols, our faith and how deep our faith is, if at all. It has for me. Has it for you? It's a time when we must look at The Written Word and say, "is it true for all areas of life or just for some?". We are in a war. It's a war for our soul and for the soul of the Church, of good vs evil. I am being straight up with you. It is a time to refuse to be spoon fed and a time to eat the meat of the Word for ourselves. The entire world is watching us right now. They are watching to see if we will give in or get up and fight like we mean it, as Scriptures tell us to. No more fighting "like a girl". (Read Ephesians 6). Our families, relationships, the Church, our neighbors and the lost world depend on it. The refining won't stop until the Bride is ready.
It is revealing if we are who we say we are; free? Or slaves to fear? Where does your identity lie? 2 Timothy 1:7 says, "He did not give us a spirit of fear (timidity or cowardice or weakness) but of power (as evidence of the Holy Spirit and faith) and of love and of a sound mind (not getting entangled with things going on in the world)". Wow. So much wrapped up in that small verse. Truth is not always based on feelings.
His death for our heart.
Deuteronomy 30:6-10 says, "The LORD your God will circumcise your hearts and the hearts of your descendants, so that you may love Him with all your heart and with all your soul, and live." Jesus said to Nicodemus, "Ye must be born again… That which is born of the flesh is flesh; and that which is born of the Spirit is spirit. Unless one is born of water and the Spirit, he cannot enter the Kingdom of God." To be born again is to begin life anew in relation to God. A fundamental change in our thinking, feeling, reasoning, and acting that becomes permanent in relation to spiritual things. We "must be born of water and the Spirit." Ezekiel 36:25 says, "I will sprinkle water on you, and you will be clean." This was from the law of Moses in purifying the unclean thing, "hyssop dipped into water with the ashes from the heifer shall be sprinkled on the unclean for purification." But, Hebrew 9:13-14, "For if the blood of bulls and of goats, and the ashes of a heifer sprinkling the unclean, sanctifying to the purifying of the flesh, how much more shall the blood of Christ, who through the eternal Spirit offered himself without spot to God, purge your conscience from dead works to serve the living God?" Jesus came to earth to live to show us the Father and die to "buy back" our hearts from the sin sickness that we are genetically predisposed to from Adam. To be set free from guilt, the shame of sin, and the fear of man and bondage of law, "purge your conscious". Did you hear that? Some of you are carrying shame, guilt, and fear of people because of bad decisions of the past. Jesus came to "purge your conscious" of all of that. That is what His blood has the power to do. Will you let Him? 1 Samuel 16:7 says, "man looks at the outward appearance, but the Lord looks at the heart". Do don't have to carry the shame anymore. Be set free.
"Stop telling God how big your enemy is and start telling your enemy how big your God is". Refuse to take on the oppressive spirit of fear and condemnation and choose to live as free people. That's what He came to do my friends, to set your captive heart free. To do anything less than to choose to live free is to not live in the fullness of His miraculous birth, life, death and resurrection. "Whom the Son has set free is free indeed".
Heart care.
The Heart has always fascinated me. When I was in nursing school, I learned how detailed and powerful the heart was. Physiologically it carries life or death through the body as blood gets pumped throughout. If the heart is healthy, blood will be carried as it should be to keep the rest of the body healthy. If the heart is diseased the body will pay the price and we will slowly and surely soon die.
Proverbs 4:23 shows the importance of caring for our heart, "Above all else, guard your heart, for everything you do flows from it.", or the NIV version, "Guard your heart above all else, for it determines the course of your life.", or the KJV, "Keep your heart with all diligence, for out of it spring the issues of life". And then we hear the sad truth of what sin has done to it, "The heart is deceitful above all things, and desperately sick; who can understand it?" Jeremiah17:9 says.
Faith and Health.
The Faith and Health Initiative is meant to bring light to how the spirit, soul and heart, and body function not only together but separately to bring us whole body health. This has been the goal of the Faith and Health Initiative over the last 11 months. It's a Biblical worldview of our bodies.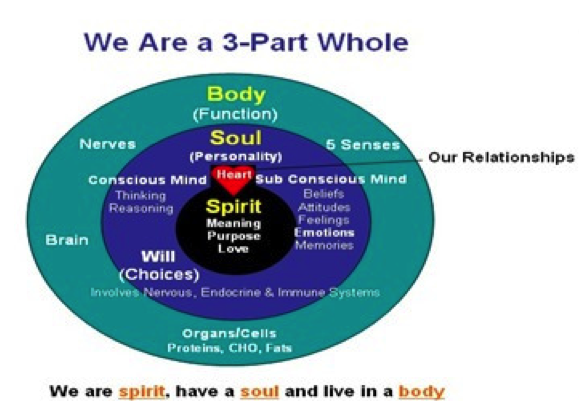 1 Thessalonians 5:23 says, "Now may the God of all peace sanctify you entirely; and may your spirit and soul and body be preserved complete, without blame at the coming of our Lord Jesus Christ." Likened to the Trinity; Father, Son and Holy Spirit, three separate entities but ONE, all with individual tasks but working together, not one without the other. The world would come at us from the outside, but Christ has caused us to come alive on the inside, through His Spirit to our spirit at our confession of faith and created a "new" and transformed being in Him. Christ's work renews our mind, and heart, through the Truth of His Word and prayer, and that causes us to change our behaviors in all areas of life, eating, drinking, personal care, personal time, and our interactions with others. This is our mission and goal to see us as renewed works in progress through the spirit, changing our thoughts and then changing our behaviors to make us "fit for the kingdom's work" that God has called us to. "Faith without works is dead" says James 2:26. It's a renewing of our old mind in the new man that changes our old behavior. Otherwise, it is a work of the flesh. "Change that ignores the heart (soul) will seldom transform the life. For a while, it may seem like the real thing, but it will prove temporary and cosmetic."- Paul David Tripp.
Over the last 11 months we have covered a lot of topics and how "things" influence the mind, will and emotions, and the body; the skin we are in. But if you only heard 1 thing that I have spoken of this year, please hear that this: the heart/soul is at the heart of it all when it comes to good "health" and well-being. The condition of our heart will influence every fiber of our being whether we want it to or not. "Above all else, guard your heart, for everything you do flows from it.", Proverbs 4:23.
In a few short days we will be reminded of Jesus 1st coming as we celebrate Christmas. Very soon, He will come again, this time we will meet Him in the clouds when He retrieve His Bride and take us to the Father. On that day, your life will be opened before Him. Will you feel shamed, guilty, frightened, or humbled at the fact that He has called you one of His children? Do you live as you believe, in the power of the resurrection of Jesus Christ and the Holy Spirit to transform your heart, and life or not? There are no second chances.
If you are unsure if you have a right relationship with Jesus Christ or if you're a struggling with conditions of the heart of shame and guilt, insecurities or fear, PLEASE come find me, Pam, or Ivan, a trusted friend or mentor that will pray with you so that you can live with confidence that Jesus has set you free. Jesus said, "come find rest for your weary souls", for "If you declare with your mouth, "Jesus is Lord," and believe in your heart that God raised him from the dead, you will be saved." Romans 10:9. Isaiah 53:11 says, "When He sees all that is accomplished by His anguish, He will be satisfied. And because of His experience, My righteous servant will make it possible for many to be counted righteous, for He will bear all their sins."
Blessings and prayers for freedom to live free in Jesus name,
Juanita
This has been an interesting year for me. One that I really had no idea was coming. (Probably a good thing because I may well have "jumped ship" on this Initiative.) I have been more vulnerable with a group of people than I ever hoped. It's a good thing we only see in part. I hope that this year of Faith and Health has been a realization of the Father's love for you and your 'well-being" drawing you even deeper to His heart in His plans and purposes for your life moving forward. Jeremiah 29:11 is a familiar verse, "for I know the plans I have for you," says the Lord, "They are for good and not disaster, to give you a future and a hope." "Whom the Son has set free (of guilt, shame, insecurity and even the now and future) he is free indeed!" therefore, walk as free people.
Deuteronomy 6:5, "You shall love the Lord your God with all your HEART, with all your soul and with all your strength."